AUE 48th Annual Conference 2018
5th - 7th September 2018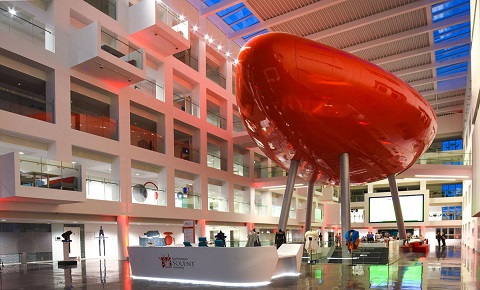 Summary
Time is rapidly running out to book for the AUE 48th Annual Conference to be held at Solent University.
What to expect
YOU NEED TO BOOK NOW!
Just a friendly reminder for those of you yet to book, that there are now less than three weeks left to secure your place at the 48th AUE Annual Conference.

With a diverse range of interesting speakers, numerous networking opportunities, a 50-stand exhibition and some great social events planned, the 2018 conference promises to be an event to remember. All of this is offered under one roof at Solent University, with the exception of the Gala Dinner, which for a real treat will be held at St Mary's Stadium, Southampton - so make sure to book now to secure your place.

The plenary sessions will see presentations delivered by key industry representatives including the Health and Safety Executive Electrical Specialists and allow you a chance to grill the speakers with any questions you may have! These sessions also contribute to your Continuing Professional Development (CPD), with certificates available to delegates after the conference. For an overview of this year's sessions, please click here where you will also find links to speaker biographies.
In addition to this, we are pleased to announce that Robert Llewellyn, British actor, comedian and writer, best known for his role as Kryten in sci-fi hit Red Dwarf and as a presenter of the TV engineering gameshow Scrapheap Challenge, will be the after-dinner speaker at the Gala Dinner.
The conference is open to higher education engineers, including AUE members and non-members alike. Full conference packages, which include all plenary sessions, attendance at both conference dinners, lunch and refreshment breaks, and accommodation, are available at £365 for members and £385 for non-members. To register, and for more information on the event, visit: http://www.cvent.com/d/ftq359.
To ensure that the conference is open to as many people as possible we've introduced a number of offers for first time and multiple member bookings, including:
• 25% off for first time attendees
• 50% off for the third(+) attendee from the same institution
Also, for those of you who are waiting for your 2018/19 budgets before booking, it's worth noting that the invoice for the conference is due for payment 30 days after the date of booking.
Whether you are a returning member or someone new who hasn't attended the conference before, we look forward to seeing you in Southampton in September!

Steve Dunne
AUE Chair and Conference Host
Engineering Services Manager, Solent University
Find us
Solent University is located in the heart of Southampton city centre, within walking distance of Southampton Central train station.
Southampton is well connected with the rest of the UK, whether you plan to get here by car, train, aeroplane or ferry.

Further information on travel can be found on our website.