USHA Annual Conference 2019
23rd - 25th April 2019
Venue: Centre for Life, Newcastle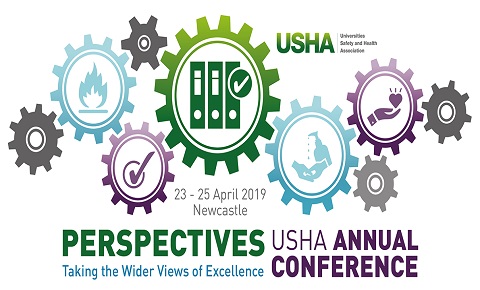 Summary
The Universities Safety and Health Association (USHA) promotes safety and health in higher education ensuring the wellbeing of university staff, students and visitors.
What to expect
This year, the event consolidates both the Spring and Estates conferences into one larger event. The programme will be diverse in content covering key areas within the sector with shared Keynote sessions, as well as more specialised sessions directed toward both the previous Spring and Estate's conference attendees. We will also be asking the delegates about what topics they are interested in discussing, in an all new self-directed workshop dictated by our attendees.

The Full Package delegate price is just £450 + VAT!

We have some exciting speakers lined up! Over the two days attendees can expect to hear from:
Wednesday 24th April
Ian Prosser: HM Chief Inspector of Railways: Safety Assurance
Dr. Paul Chadwick: Deputy Director of CBC
Nigel Heaton: Director of Human Applications
David Frise: CEO of Building Engineering Services Association: SFG20 and the theme of statutory Compliance.
Professor Alistair Gibb: Construction Engineering Management
Clive Johnson: Director of Safety & Security Landsec: Mental health and construction
Thursday 25th April
Paul Verrico: Eversheds: Legal update
Chris Lowther: Chief Fire Officer: Fire safety
Bernadette Duncan: COO at AUCSO
Iain Ferguson: Head of Safety and Sustainability, London North Eastern Railway (LNER)

More speakers and session titles to be announced soon!

Full Delegate packages include:
Attendance on both Conference days (Wednesday 24th and Thursday 25th April 2019) with access to all sessions
All lunch and refreshment breaks across the two days
A ticket to the Drinks Reception and Welcome Dinner on Tuesday 23rd April
A ticket to the Drinks Reception and Gala Dinner on Wednesday 24th April
An optional campus tour
Fantastic networking opportunities throughout the conference
To secure your place click here to be taken to the booking website to make a registration.

There will also be ample time for networking during both the Welcome and Gala Dinners. Both evenings will provide an excellent opportunity to get to know other attendees, the Gala Dinner especially is certain to be a highlight of the conference programme.

The USHA Annual Conference is a great forum not only to hear from expert and knowledgeable speakers, but also to network with invaluable suppliers to the sector.

We are extremely grateful for the support our institution members give to USHA events, as we rely on this to deliver a successful conference year on year. Don't miss this fantastic opportunity to allow your team to be a part of the newly improved, USHA Annual Conference 2019. Book now to secure a place asap!
Read more

If you require any further information please email usha@assuredevents.com

Thank you very much in advance for your support, and we hope to see you in Newcastle!

Kind regards

Cathy Day
USHA CHAIR