Learning & Development
Interim Learning & Development Co-ordinator - Henry Gun-Why
AUE 2022 Virtual CPD & KNOWLEDGE Series for Members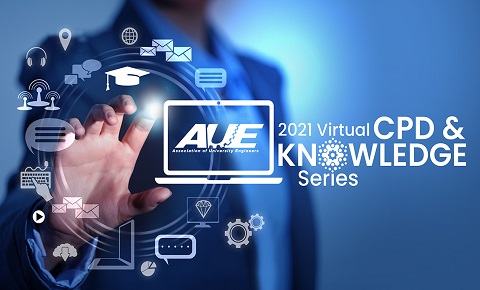 Key Facts



When do the series start?

We will be running a series of training sessions the first of which will be held in January 2022.

Who will deliver the training?

Each training session will be delivered by a member or sector supporter, with content approved by the AUE.

How will the training be delivered?

We will use the virtual platform Hopin to deliver the webinars and/or workshops, meaning you can stay on the platform and network with other AUE members and speakers following the session, as well as visit our supporters' virtual stands in the "Expo" Area.

How long will each series be?

The actual length of each session will be confirmed in due course, but we aim to keep these training series within 1-2 hours.

Privacy and GDPR:

Please note: by signing up to this event, you are allowing us to share your contact details (full name, job title email address and University name) with other members or supporters. If you would like us to remove you from the attendee list, please contact aue@yourvision-events.com.

What is the cost to attend?

To ensure the series are accessible to our members, AUE is offering the full virtual programme for free.

What topics will be covered?

The full 2022 programme is being worked on and will be launched in due course.
2022 Sessions
27th January 2022
We are kicking off our first AUE 2022 Virtual CPD & KNOWLEDGE Series event, on Thursday 27th January with Smart Lighting (postponed from September 2021). The event platform will be open from 9:30 giving you the opportunity to familiarise yourself with the platform and network with AUE colleagues ahead of the session at 10:00-11:00. Afterwards you'll be able to network further and visit the expo.

Speaker:
Colin Lawson, Head of Market Intelligence, Tamlite

Session Synopsis:
There are a number of problems facing lighting engineers/facility managers within educational premises, that can be solved by the latest connected technology. Energy efficiency, compliant emergency lighting and ensuring that projects are carried out to the required quality and without disruption to productivity, to name a few. While wired connected systems are going some way to improve this, the advantages of a wireless network are plain to see. This talk, from Colin Lawson of Tamlite Lighting, goes through the real benefits of wireless connected lighting systems. Facility managers can expect to monitor their energy consumption to minute detail, manage their emergency lighting with greater control, achieving all of this with no additional wiring or cabling to endure.
Tamlite Lighting is a UK manufacturer established in 1967, offering one of the broadest and most technically advanced education solution portfolios of any lighting manufacturer.
As an education specialist, helping to create 'future-proofed' facilities, Tamlite understands that universities, colleges and schools need to be inclusive and safe - providing students with the best atmosphere to learn.
2021 Sessions
DECEMBER SESSIONS
1st December 2021
The first December AUE 2021 Virtual CPD & KNOWLEDGE Series on Wednesday 1st focussed on Understanding Water Quality and Total Solutions in a session delivered by Jean Nkuliza and Keith Mileham, both Technical Sales Engineers, Spirotech UK.


Session synopsis:
Factors affecting water quality is crucial to maintaining system efficiency and maximising the lifespan. This highlights our focus on treating the cause and providing solutions to issues.
7th December 2021
The second AUE 2021 Virtual CPD & KNOWLEDGE Series in December was run by Toshiba focusing on A Guide to Variable Refrigerant Technology.
Speaker:
Michael Kocurek, Regional Specification Manager, Toshiba Air Conditioning UK

Session Synopsis:
This session will cover:
Detailed understanding of application and design
Types of equipment available
The application of VRF systems
Detailed investigation into the refrigeration cycle
Awareness of the different support tools for correct equipment selections
System installation criteria.
As a world leader in electronics, Toshiba is committed to delivering the highest standards of quality and innovation in all of the industries in which the company is a major player. These principles apply to the air conditioning division for which Toshiba continues to develop market leading products suitable for residential and commercial applications.
NOVEMBER SESSIONS
3rd November 2021
The first November AUE 2021 Virtual CPD & KNOWLEDGE Series focussed on Low carbon, all-electric heating, cooling, hot water and energy recovery with no compromises in a session delivered by Andrew Latus, Regional Sales Manager and AHU product specialist, Klima-Therm.
Klima-Therm has been providing a comprehensive portfolio of HVAC equipment to the building services industry for nearly 40 years, including genuine world-first achievements, all supplied with expert application knowledge and technical back-up. Our products are renowned for being well designed, versatile, highly efficient and competitive. Our wide range includes Heat Pumps, Chillers and AHUs.
17th November 2021
The second AUE 2021 Virtual CPD & KNOWLEDGE Series in November focussed on Lighting For Educational Establishments (LG5).

Speakers:
Sonia Pepperell, Product Manager - Commercial, Thorlux Lighting

Session synopsis:
The SLL guidance for good design to inspire the student and empower the teacher for the lowest capital cost, in an energy efficient way.
Thorlux, a division of F W Thorpe Plc, is well known throughout the world and provides a comprehensive range of professional lighting and control systems.
OCTOBER SESSIONS
6th October 2021
The first October AUE 2021 Virtual CPD & KNOWLEDGE Series on Wednesday 6th October focussed on Water treatment in commercial heating and DHW systems in a session delivered by Joe Bell, Commercial Sector Manager - East, David Webster, Commercial Sector Manager - Midlands and Russ Walliss, Commercial Sector Manager - South, all of Sentinel.

Speakers:
Joe Bell, Commercial Sector Manager - East
David Webster, Commercial Sector Manager - Midlands
Russ Walliss, Commercial Sector Manager - South

Session synopsis:
In this session, Sentinel will cover the following;
Provide an explanation of why water treatment is critical to the health, efficiency and longevity of assets and the associated systems
Explain the causes of corrosion and how to manage it
Discuss how to manage limescale
Talk about the cost of poor water treatment regimes

Including case studies and illustrations

Discuss how to get it right
Reference to appropriate guidelines such as BG29 & BG50
They also covered the following learning objectives, so that after the session you will be able to;
Identify key reasons for limescale formation and corrosion in Heating, Cooling and DHW systems.
Understand water conditioner technologies and their applications in order to make an informed choice
Conditioner or softener? Information to help you make an informed choice
Sentinel are water treatment experts, with 30+ years' experience in the sector, helping you clean, protect & maintain heating and hot water systems. Our comprehensive range of products, supported by approachable experts, will help you achieve best practice protection for commercial systems, protecting against limescale, corrosion and accompanying problems which can cause inefficiency or failure.
20th October 2021
The second AUE 2021 Virtual CPD & KNOWLEDGE Series in October focussed on Building & Campus Energy Optimisation & Decarbonisation.

Speakers:
Eric Roberts, Business Development Manager
David Ross, ICL Partner Operations Manager

Session synopsis:
How IES' innovative digital twin technologies can be used by engineers and estate teams to optimise and decarbonise their university estates
Over the last 25+ years IES has built a solid reputation as the leading global innovator in integrated performance-based analysis for the built environment. Our Digital Twin technology facilitates the creation of resource-efficient, healthy and cost-effective built-environments of any size or purpose – supporting citizens, companies, campuses, communities, cities and even countries.
SEPTEMBER SESSIONS
9th September 2021
This session focussed on The Latest in Energy Efficient Critical Infrastructure for University Buildings, with Vertiv

Speakers:
Russell Bulley - Senior Applications Engineer and Accredited CIBSE CPD Presenter,
Joe Thomas - Area Sales Manager - Thermal Management,
Rob Redmond - Sales Team Leader, AC Power all of Vertiv

Session synopsis:
Universities are seeing a need for more data-intensive applications, including Big Data and data analytics, as well as large amounts of data processing as they're continuing to offer a more interactive learning experience for students. This CPD will deep dive into the critical IT infrastructure technologies which need to adapt to ensure continued business continuity, connectivity and availability for day to day university operations. We'll be sharing the latest advancements in critical power and cooling technology to combat these challenges to have a robust infrastructure to meet the evolving connectivity and data demands.
As Architects of Continuity™, Vertiv solves the most important challenges facing today's data centers, communication networks and commercial and industrial facilities with a portfolio of power, cooling and IT infrastructure solutions and services that extends from the cloud to the edge of the network. Our customers' need for always-on, mission-critical applications is what drives us to constantly innovate for more efficient, reliable, and intelligent IT infrastructure.
21st September 2021
On 21st September 2021, Alex Emms, Operations Director from Kohler, delivered Uninterrupted Power Interpreted.

Speakers:
Alex Emms, Operations Director, Kohler

Session synopsis:
Would you benefit from knowing more about uninterruptible power supply systems and how they are developing? Learn what questions to ask, what information to have ready and what to look out for in the future.

*GDPR note: by signing up to this event, you are allowing us to share your contact details (full name, job title, email address and University name and address) with our supporters. If you would like us to remove you from the attendee list, please contact aue@yourvision-events.com.
Recording of Kohler Power Session
Kohler Uninterruptible Power, part of the global Kohler Co. Power Group, are a leading provider of power protection solutions and services. Our product portfolio includes single and three-phase uninterruptible power supplies from 1 kVA to 5 MVA, emergency lighting static inverters, battery banks, and standby diesel generators. We are also renowned for our exceptional pre- and post-sales support. Our service offering includes site audits, preventative maintenance visits, 24/7 emergency on-site support, battery and remote monitoring packages.
PREVIOUS SESSIONS IN 2021
Session 7: 04 August 2021
Connected Compliance with ZetaSafe
by Andrew Lewis - Associate Commercial Director, Becky Allen - Client Manager &
Ian Johnson - CAFM Product Manager
ZetaSafe enables you to efficiently collect, manage and share critical compliance data, helping you to meet obligations and keep your people and buildings safe and secure. Benefits include:
Peace of mind via audit trail and visible reassurance of monitoring
Real-time visibility of data, KPIs and trends, auto escalation of non-compliances
Manage Water Hygiene, Legionella, Fire Safety (RRO Fire Safety 2005) and Emergency Lighting and any compliance checks.

Session 6: 07 July 2021
By John Treble, Founder and Client Services Director, The Green Consultancy and George Barnes, Energy and Sustainability Consultant, Owen Jones, Senior Energy Consultant and Simon Matthews, Principal Energy Consultant all of JRP Solutions. These speakers will provide a practical guide to developing and implementing a decarbonisation plan, tackling Scope 3 and an introduction to supply chain mapping.

Session 5: 02 June 2021
By Garry Metcalfe, CEO and Chris Butchart, CEO, both of Invida
Backlog maintenance is not an exciting topic. However, with the Physical Estate under unprecedented scrutiny, we need to make this topic more exciting, to learn from other sectors, change the narrative, and gain access to funds vital to tackling backlog maintenance. This session will examine why Backlog Maintenance continues to be such a challenge, but importantly provide some guidance to help address the issue.
Session 4: 05 May 2021
By Kirsty Aldridge, National Sales Manager - Menerga, Systemair Ltd
This session will focus on Hygienic Air Handling Units and their relevance in University buildings. It will explore key elements of hygienic by design AHUs and what to look for when bringing outside air into teaching spaces and laboratories.
Session 3: 07 April 2021
by James Cooper, Business Development Manager - Heat Pumps, Lochinvar Ltd.

This session will focus on Commercial Heat Pump Applications for Existing Heating and Hot Water Systems.

Recording of Session 3
Session 2: 03 March 2021
by Neil Fright, CEO and Glyn Lee, Key Energy Account Manager, both of Carbon Numbers Ltd.
This session will focus on BEMS - Cloud, Carbon and Costs, and more specifically on getting the most from your existing system. It will also explore ways to reduce costs, improve performance and access Salix.
Session 1: 03 February 2021
by Erika Wilson, Managing Director of Wilson Power Solutions
Main contents will include:
Introduction to transformer losses and core materials
The transition from Tier 1 to Tier 2 EU Ecodesign Regulation for transformer losses (everything about the regulation, from deadlines, loss comparison, exceptions, etc.)
Financial feasibility, energy and carbon paybacks of Ultra Low Loss transformers
Funding opportunities for universities
Case studies of transformer replacements
Ensuring that training is inclusive and accessible to everyone lies at the heart of what we do. One benefit of online training is that our CPD & KNOWLEDGE Series are available to all AUE Members all over the country at no extra cost. We believe this will provide an even more enriching learning experience as we collaborate, share experiences and learn from each other.
We look forward to seeing you soon on the platform
AUE Training Fund
Now that we all seem to be tentatively embracing the "new normal" the AUE are pleased to announce the return of the Training Fund!
The AUE are committed to helping it's members to develop their professional career or to support a junior engineer or apprentice in their team. The fund is not intended to replace institutions' obligation to provide statutory training, however it can be used to support training/travel/accommodation if there is a specific path the individual wishes to develop in their career or teams.
Watch this space for the next round of AUE Training Fund.

AUE Learning and Development Strategy
The AUE learning and development (L&D) strategy is an organisational strategy that articulates its membership Knowledge , Abilities , Training , Experience, capabilities, skills or competencies required, and how these can be developed, to ensure a sustainable, successful organisation for the benefit of its members.
The strategy will be embodied within the training ethos of the AUE and all members are urged to take a look at the draft document on the AUE website (attached at the bottom of this page).
It is hoped that a portal will be available on the website called 'AUE Academy', and it is where a lot of information about training, CPD sessions and webinars will be posted.
Call for Ideas
The AUE Academy also are looking for new ideas of training/courses to support in the sector.
If you are willing to organise a course and offer additional places to the wider membership, then the AUE will be willing to look at subsidising the training.
Or
You know of topics that would warrant a day's training that benefits the sector (but isn't necessarily something your institution has to provide)
Or
You know some really good speakers that we could work with to offer sector specific training.
Please get in contact: david.morley@ntu.ac.uk or info@aue.ac.uk.
David Morley - AUE Learning & Development Coordinator
Training Partners
Eastwood Park Training
Eastwood Park works with an number of universities to support training needs within their engineering and estates & facilities departments.
If you work within the higher education sector, visit www.eastwoodparktraining.co.uk, to see how can we help you.
AUE members may be eligible for special rates, our sales team would be pleased to discuss your requirements with you.

The AUE has, in recent years, provided subsidised training for its members on the following subjects:

Soft Landings
Management of the Commissioning Process
Building Regulations
CRC
Electrical Regulations
Fume Cupboards
Fire Detection
Life Cycle Costing.
CIBSE Training Courses
IET Training Courses
BSRIA Training etc
AUE work closely with BSRIA read more