Learning & Development
AUE 2021 Virtual CPD & KNOWLEDGE Series for Members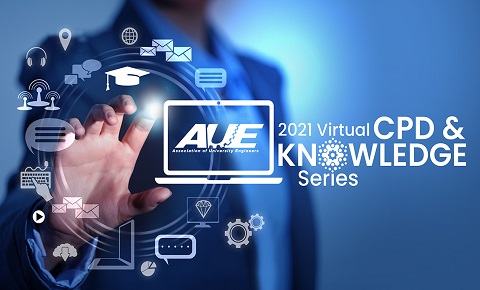 Key Facts
Feb-Dec

2021

When do the series start?

We are planning on running 11 training sessions in total, with one held each month starting in February 2021. We will launch the full virtual series in the coming weeks.

Who will deliver the training?

Each training session will be delivered by a company supporter to the sector, with content approved by the AUE.

How will the training be delivered?

We will use the virtual platform Hopin to deliver the webinars and/or workshops, meaning you can stay on the platform and network with other AUE members and speakers following the session, as well as visit our supporters' virtual stands in the "Expo" Area.

How long will each series be?

The actual length of each session will be confirmed in due course, but we aim to keep these training series within 1-2 hours.

Privacy and GDPR:

Please note: by signing up to this event, you are allowing us to share your contact details (full name, job title, email address and University name) with our supporters. If you would like us to remove you from the attendee list, please contact aue@yourvision-events.com.

What is the cost to attend?

To ensure the series are accessible to our members, AUE is offering the full virtual programme for free.

What topics will be covered?

The programme is still being developed, but look forward to insights from various sectors spanning power plant equipment, lighting manufacturer, water heaters, air conditioning, environmental consultants, compliance software, facilities management software and more.
Session 2: 03 March 2021
by Neil Fright, CEO and Glyn Lee, Key Energy Account Manager, both of Carbon Numbers Ltd.
This session will focus on BEMS - Cloud, Carbon and Costs, and more specifically on getting the most from your existing system. It will also explore ways to reduce costs, improve performance and access Salix.

Please see below an overview of the programme:

10:30 - 11:00 Platform Familiarisation and Networking
11:00 - 12:00 Training Session
12:00 - 12:15 Member Networking (via chat roulette)
12:00 - 12:30 Visit the Expo
Session 1: 03 February 2021
by Erika Wilson, Managing Director of Wilson Power Solutions
Main contents will include:
Introduction to transformer losses and core materials
The transition from Tier 1 to Tier 2 EU Ecodesign Regulation for transformer losses (everything about the regulation, from deadlines, loss comparison, exceptions, etc.)
Financial feasibility, energy and carbon paybacks of Ultra Low Loss transformers
Funding opportunities for universities
Case studies of transformer replacements
Ensuring that training is inclusive and accessible to everyone lies at the heart of what we do. One benefit of online training is that our CPD & KNOWLEDGE Series are available to all AUE Members all over the country at no extra cost. We believe this will provide an even more enriching learning experience as we collaborate, share experiences and learn from each other.
We look forward to seeing you soon on the platform
AUE Training Fund
Now that we all seem to be tentatively embracing the "new normal" the AUE are pleased to announce the return of the Training Fund!
The AUE are committed to helping it's members to develop their professional career or to support a junior engineer or apprentice in their team. The fund is not intended to replace institutions' obligation to provide statutory training, however it can be used to support training/travel/accommodation if there is a specific path the individual wishes to develop in their career or teams.
With the recent disruption through Covid-19 , there was no Spring or Summer fund this year. Therefore to mitigate the missed Spring/Summer funds, the Autumn fund is now open and we will be offering 15 applicants the opportunity to receive funding of up to £500.
The closing date for Autumn applications is 21st December 2020.
If you would like to apply, please complete the attached form and send to info@aue.ac.uk
If you are nominating someone please make sure that an AUE member is supporting the application.
AUE Learning and Development Strategy
The AUE learning and development (L&D) strategy is an organisational strategy that articulates its membership Knowledge , Abilities , Training , Experience, capabilities, skills or competencies required, and how these can be developed, to ensure a sustainable, successful organisation for the benefit of its members.
The strategy will be embodied within the training ethos of the AUE and all members are urged to take a look at the draft document on the AUE website (attached at the bottom of this page).
It is hoped that a portal will be available on the website called 'AUE Academy', and it is where a lot of information about training, CPD sessions and webinars will be posted.
Call for Ideas
The AUE Academy also are looking for new ideas of training/courses to support in the sector.
If you are willing to organise a course and offer additional places to the wider membership, then the AUE will be willing to look at subsidising the training.
Or
You know of topics that would warrant a day's training that benefits the sector (but isn't necessarily something your institution has to provide)
Or
You know some really good speakers that we could work with to offer sector specific training.
Please get in contact: david.morley@ntu.ac.uk or info@aue.ac.uk.
David Morley - AUE Learning & Development Coordinator
Training Partners
Eastwood Park Training
Eastwood Park works with an number of universities to support training needs within their engineering and estates & facilities departments.
If you work within the higher education sector, visit www.eastwoodparktraining.co.uk, to see how can we help you.
AUE members may be eligible for special rates, our sales team would be pleased to discuss your requirements with you.

The AUE has, in recent years, provided subsidised training for its members on the following subjects:

Soft Landings
Management of the Commissioning Process
Building Regulations
CRC
Electrical Regulations
Fume Cupboards
Fire Detection
Life Cycle Costing.
CIBSE Training Courses
IET Training Courses
BSRIA Training etc
AUE work closely with BSRIA read more