AUDE Summer School 2022
6th - 9th June 2022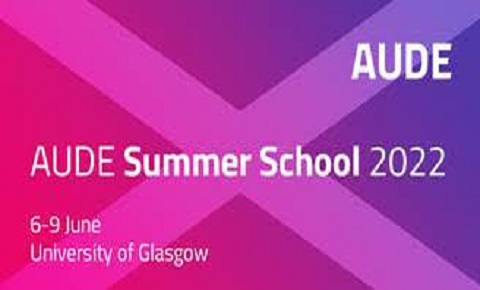 Summary
AUDE Summer School residential for aspiring directors of estates is open for bookings
What to expect
We're so pleased to be heading to Glasgow for AUDE's Summer School 2022. After the disruptions of the last two years it will be great to meet a new cohort of the finest talents in the HE estates sector, all with the drive and energy to become the next generation of estates leaders. At Summer School we help delegates layer new skills and new knowledge on top of an already-strong career base.
Summer School is an intensive residential programme, facilitated by Mark Swales (formerly of Sheffield Hallam University), and it is a packed four-day programme of sessions, group work and opportunities to meet and share with other delegates. Our speakers come from across HE and estates, to help delegates think about the broadening expectation upon them and the steps they will need to take as their careers develop. With projects continuing after the residential programme, and the opportunity to present at the AUDE Conference for the best project team, attendance at Summer School is a significant investment in time and commitment, but we also think it is the best programme currently available of its kind for estates and FM specialists. We have polished the programme and its delivery over the last five years to make sure it is the development programme for future senior leaders that the sector needs.
But does it work?
We asked 2019 Summer School delegate Jack Hunter, recently promoted to the role of Deputy Director (Estates) at the University of Newcastle, and you can read his response online. "Does Summer School work? As a way to maximise your learning, and gain access to great speakers and information, it is of really high quality and value. It's a fantastic opportunity," Jack said.
It's a key part of every director's role to think about bringing on the next generation. Who is the star in your team that deserves that "fantastic opportunity"? If you are considering attending Summer School yourself and would like to know more, visit our website, or for an informal conversation before booking you'd be welcome to speak to me or AUDE's Events Manager Lianne Goddard. With less than two months to go we expect places to fill up rapidly. We look forward to meeting you very much in Glasgow.