AUE 2022 Virtual CPD & KNOWLEDGE Series - July (Members Only)
6th July 2022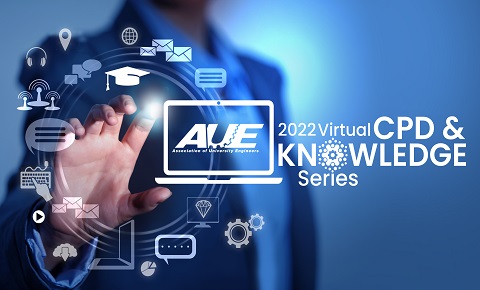 Summary
The July AUE 2022 Virtual CPD & KNOWLEDGE Series event has now opened for bookings.
What to expect
Low Carbon Heat Ready Estates: using hvac digital twins to avoid the risk and cost of low carbon heating performance gaps. From 10:30 you will be able to access the event platform, giving you the opportunity to familiarise yourself with the platform and network with AUE colleagues ahead of the session, 11:00-12:00. After the session you'll be able to visit the expo and network further using the networking carousel.

Speakers:
Chris Davis, Head of UK Sales, Hysopt
Brian Vanheel, Sales Support Engineer, Hysopt

Session synopsis:
Operating, maintaining and upgrading heating and cooling installations across university campuses accounts for a significant proportion of annual estates operating and capital budgets. While for every Higher Education establishment, reducing carbon emissions from the way estates are heated and cooled is now an important priority.

In this session, Hysopt will explain the reasons why heating and cooling installations across most universities (both legacy and new build!) under-perform against expectations; how digital simulation and calculation tools can help university engineers avoid the uncertainty and risk of this under-performance; and provide them with the tools to:
deliver "quick win" energy cost and carbon saving solutions;
ensure systems are future-proofed so that low carbon options can be applied as cost-effectively as possible;
build supporting investment cases;
stretch capital budgets further;
The session will also explain the differences between "hydraulic system digital twins", BIM modelling and BMS optimisation.

Hysopt will also provide a short demonstration and case study from a recent UK university project where this approach has been used successfully to optimise performance and plot a roadmap towards net zero carbon.



When do the series start?

We will be running a series of training sessions the first of which will be held in January 2022.

Who will deliver the training?

Each training session will be delivered by a member or sector supporter, with content approved by the AUE.

How will the training be delivered?

We will use the virtual platform Hopin to deliver the webinars and/or workshops, meaning you can stay on the platform and network with other AUE members and speakers following the session.

How long will each series be?

The actual length of each session will be confirmed in due course, but we aim to keep these training series within 1-2 hours.

Privacy and GDPR:

Please note: by signing up to this event, you are allowing us to share your contact details (full name, job title, email address and University name) with our speakers. If you would like us to remove you from the attendee list, please contact aue@yourvision-events.com.

What is the cost to attend?

To ensure the series are accessible to our members, AUE is offering the full virtual programme for free.

What topics will be covered?

The full 2022 programme is being worked on and will be launched in due course.