FREE training day on Closed Water Systems - SMS Environmental
29th June 2023
Venue: Experience Centre, Singapore Suite, Grove, Oxfordshire OX12 0DQ
9.45am - 3.00pm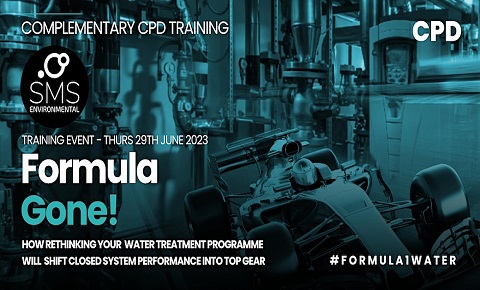 Summary
How rethinking your water treatment programme will shift closed system performance into top gear
What to expect
Who Should Attend?
This event is designed for Building and Facilities Managers seeking to enhance their understanding of the water treatment of closed systems and how following best practice will not only ensure the continued availability of key assets, but also help you to meet your energy efficiency targets.
What to expect:
Introduction to Closed Systems
Water Chemistry and Microbiology
Challenges of Corrosion and Biofouling
Best Practice Guidance and Compliance
Innovative Solutions and Energy Efficiency
Chemical Treatment, Filtration and Monitoring
Ending the day in style
After a day full of insightful discussions and learning, attendees will have the opportunity to unwind with drinks and refreshments. Enjoy a guided tour of the Heritage Museum, immersing yourself in the rich history and achievements of Williams Racing:
Be social
Don't miss this unique opportunity to enhance your knowledge in the world of water treatment for building and facilities management, whilst experiencing the exceptional facilities of the Williams F1 Experience Centre! Share the news with your colleagues and spread the word using our hashtag:
#Formula1Water
About the Organiser
Organised by SMS Environmental Ltd - Water Safety and Compliance
SMS Environmental is one of the UK's largest providers of water treatment services.