AUE 50th Annual Conference - SEPTEMBER 2022
7th - 9th September 2022
Venue: University of Stirling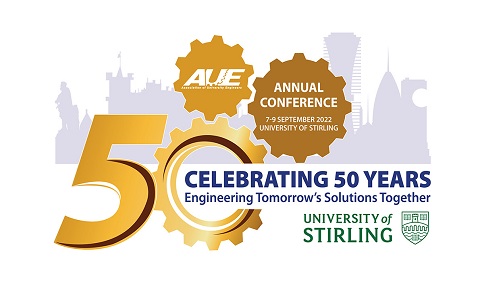 Summary
Registration now open!
What to expect
As the world still seems short of good news stories, we would like to lighten the mood and remind you that the countdown has begun for the 50th AUE Conference. You still have time to purchase your tickets at the early-bird price before our sale ends after the first 30 bookings or on 27 May 2022, whichever comes first.

This year's conference is being held at the University of Stirling from 7th- 9th September – and we're delighted to let you know about some of the great speakers and workshop sessions we have planned under our conference theme of 'Celebrating 50 Years: Engineering Tomorrow's Solutions Together'.

All tickets include access to a full packed, insightful programme and exhibition, two nights' accommodation on Wednesday and Thursday evenings, tickets to the Welcome Dinner on Wednesday at Stirling Court Hotel and Gala Dinner on Thursday at the prestigious Stirling Castle, option to join one of the organised excursions, and all your refreshments throughout the conference.

We can't wait to see you all there!
Click here to download our "Easy Travel to Stirling" document.

Best regards

Billy Ferguson
Head of Technical Services, Facilities Services
Estates Directorate
University of Glasgow
CLICK HERE TO BOOK YOUR PLACE AT THE CONFERENCE