AUE 50th Annual Conference - SEPTEMBER 2022 - Booking deadline 19th August!
7th - 9th September 2022
Venue: University of Stirling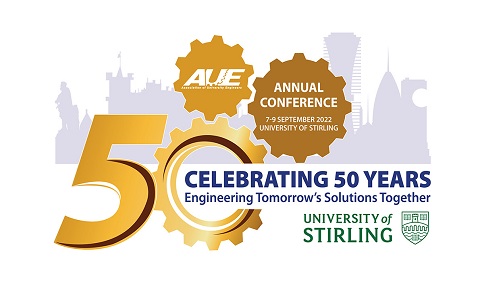 Summary
There are now only just over 2 weeks before the Association of University Engineers 50th Annual Conference booking website closes!
What to expect
CLICK HERE TO BOOK YOUR PLACE AT THE CONFERENCE
This is your reminder to book your place as soon as possible, as the booking website closes on Friday 19th August!
If you are interested in exhibiting/sponsoring please send a message to Sally info@aue.ac.uk
All tickets include access to a full packed, insightful programme and exhibition, two nights accommodation on Wednesday and Thursday evenings, tickets to the Welcome Dinner on Wednesday at Stirling Court Hotel and the Gala Dinner on Thursday at the prestigious Stirling Castle, option to join one of the organised excursions, and all your refreshments throughout the conference.

Helpful suggestion: If you are concerned about the timing of your booking and invoice in relation to the financial year. YourVision Events are now able to date the invoice for settlement from August 2022 onwards, allowing delegates to register now and pay the invoice in August!

We can't wait to see you in Stirling, please click here to download our "Easy Travel to Stirling" document.
Travelling by car
DIRECTIONS
If approaching from the East, South or West take the M9 to Junction 11. Once at the junction there is a roundabout which marks the end of the M9. From here you should take the exit for Bridge of Allan, follow the road through the town itself, and after about 200 metres you will find the University on the left.

If approaching from the North, take the A9 to Junction 11 and follow the same route through Bridge of Allan as above.
From the North A9 via Perth and Bridge of Allan.
From the East A91 from St Andrews, M9 from Edinburgh.
From the South M74, M73, A80, M80, M9.
From the West M8, A80, M80, M9 from Glasgow.
PARKING
There is parking available on campus and the university have a pay and display system in operation. Visitors can pay for parking through the RingGo app or over the phone. If you have a query about any aspect of car parking on campus, please contact the Car Parking Office, Cottrell Room 4Z2, +44 (0) 1786 466065.
Travelling by aeroplane
Both Glasgow and Edinburgh airports are approx. 45 - 50 minutes from the University of Stirling, depending on traffic. Both airports also have regular buses and trams to their city centres where trains run frequently to Stirling.

SHARING TAXIS FROM THE AIRPORT
Please note that delegates are responsible for their own onward travel from both airports, however if you are flying into Scotland, please email imogen@yourvision-events.com with the details of your inbound flight and we will try to pair you with other conference attendees arriving at a similar time so you can arrange to share a taxi from the airport to the conference together. We will also offer this for your return flight, if you let us know the details of your outbound flight either in advance via email or onsite.

BY TRAIN FROM GLASGOW AIRPORT TO STIRLING:
When travelling to Stirling via Glasgow, it is advised that attendees travel to Glasgow Queen Street train station located 10.4 miles away, as all services to Stirling leave from this station. The airport runs a Shuttle 500 service every 30 minutes to Glasgow city centre which stops at Queen Street Station and takes approx. 15 minutes. This is operated by First Glasgow and departs from Stance 1 at the airport and Buchanan Bus Station in Glasgow when returning the other way.

If you'd prefer to catch a train, the journey from Glasgow Airport to Glasgow Central Station takes around 45 minutes, with train fares from £3.50. Paisley Gilmour Street is the nearest station to Glasgow Airport and is situated 2 miles away. You can get there by catching the McGill's 757 bus, or by taxi. When you arrive at Glasgow Central Station, it is a short seven-minute walk to Glasgow Queen Street Station where all services to Stirling depart from as mentioned above.

BY TRAIN FROM EDINBURGH AIRPORT TO STIRLING:
It is advised that attendees travel to Edinburgh Haymarket Station, this is located 6.1 miles away and is connected by the Airlink 100. The Airlink 100 (Stop D) express service runs every 12 minutes to Edinburgh city centre, stopping at Haymarket, alternatively, there is also the T50 bus toward Princes Street, taking approx. 30 minutes.

If you wish to travel via Edinburgh Waverley train station located 7.8 miles away from the airport. The Airlink 100 express service also stops at St Andrew Square, right next to the station. This takes approx. 25 - 30 minutes. If travelling by taxi to Edinburgh Waverley this should take approx. 25 – 30 minutes.

BY TAXI FROM GLASGOW OR EDINBURGH AIRPORT TO STIRLING
Please note that taking a walk-up taxi from the ranks outside the airports is likely to cost significantly more than pre-booking a taxi. Several companies offer pre-booked airport services (an internet search will provide the options). If you are travelling with colleagues, you may consider booking as a group for the best rates.

If you require a taxi, the recommended company to use is Braehead Radio Cars: +44 (0)141 886 1111 / (0)141 425 1111.
Travelling by train
DIRECT/SLEEPER TRAIN
There are regular services to Stirling from Edinburgh, Glasgow, Inverness, Aberdeen and Dundee. There is a direct service from London Kings Cross and London Euston to Stirling that takes approx. 5 hours 30 minutes. There is also the option of a direct sleeper train from London Euston departing around 9pm, taking approx. 7 hours 45 minutes overnight on weekdays. Please note that sleeper trains do not run on a Saturday.

To find out more information about train services visit National Rail or Scotland Rail. For more information about Sleeper services visit Sleeper Scotland.

STIRLING STATION
Stirling Train Station is approx. seven minutes from the University of Stirling with no significant traffic. Various bus routes connect Stirling Station and the University campus, including UL Unilink buses and bus numbers 15A, 20 and 54.

Stirling Train Station is served by Glasgow Queen Street, Edinburgh Waverly, and Haymarket stations. Please note that when travelling to Glasgow, most connecting services arrive at Glasgow Central Station and a transfer on foot or by bus to the nearby Glasgow Queen Street station is required. When travelling to either Edinburgh stations, connections to Stirling are available from within the same station.

If you need to transfer between Glasgow's two main railway stations (Glasgow Central and Glasgow Queen Street), please allow at least 30 minutes to make your connection. You can do this:

On foot: It's just a 15-minute walk between Glasgow Central and Glasgow Queen Street. The route is well signposted.

By bus: This may be a preferred option if you are carrying heavy luggage or have difficulty with walking. ScotRail, in partnership with First Glasgow, provide a frequent shuttle bus link between the 2 stations, and use of this bus is free to holders of valid train tickets. For full bus timetable information, plus a map of the walking route, please visit: http://www.scotrail.co.uk/plan-your-journey/travel-connections/train-connections

SHUTTLE SERVICE
A complimentary shuttle service will be provided from Stirling Station to the university on Wednesday 7th and from the university to Stirling Station on Friday 9th September. Further information to follow.
Best regards

Billy Ferguson
Head of Technical Services, Facilities Services
Estates Directorate
University of Glasgow
CLICK HERE TO BOOK YOUR PLACE AT THE CONFERENCE
Highlights of 2019 AUE Conference
If you are interested in exhibiting please send a message to Sally info@aue.ac.uk