Book Now: AUE 2022 Virtual CPD & KNOWLEDGE Series (AUE Members only)
8th June 2022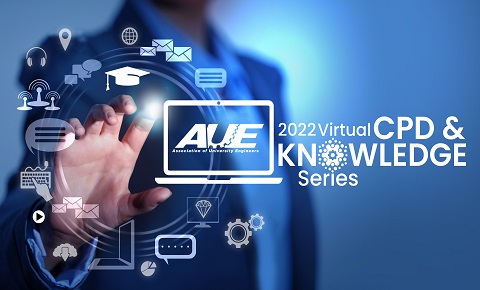 Summary
Harper Adams University Journey to Carbon Zero and PV Installation Case Study
What to expect
The event platform will be open from 10:30 for you to familiarise yourself with the platform and network with AUE colleagues ahead of the session, 11:00-12:00. You'll be able to visit the expo and network further, after the session, using the networking carousel.
Speakers:
Henry Gun-Why, Director of Gun-Why Consulting Ltd, Technical Advisor to Harper Adams University and Interim AUE Learning and Development Lead
Stuart Blissitt, University Engineer, Harper Adams University
Phil Mole, Managing Director, Alt-Group
Will George, Director, Alt-Group

Session synopsis:
The new European Commission plans to raise the greenhouse gas (GHG) emissions reduction target from 40% towards 55% by 2030 and make Europe the first climate-neutral continent by 2050. Achieving this will require accelerated energy efficiency measures, deeper electrification of sectors currently consuming conventional fuels and the deployment of more renewables, faster. This presentation will cover: -
The role of photovoltaics (PV), based on scenarios from the Commission's 2018 long-term strategy (LTS) for energy and climate.
Harper Adams Road Map to Carbon Zero
PV Solar Ready Check List
PV basics, schematics, and installation
PV Equipment, type testing, certification, efficiency, and application range
How PV's can contribute to the decarbonisation and GHG reduction
Carbon emission reduction , financial feasibility/ payback and procurement .
PV installation Case Study at Harper Adams University including the role DNO (Letter of Authority, Approval to Connect, Time Scales and Testing Requirements)
PV installation Case Study Lessons Learnt



When do the series start?

We will be running a series of training sessions the first of which will be held in January 2022.

Who will deliver the training?

Each training session will be delivered by a member or sector supporter, with content approved by the AUE.

How will the training be delivered?

We will use the virtual platform Hopin to deliver the webinars and/or workshops, meaning you can stay on the platform and network with other AUE members and speakers following the session.

How long will each series be?

The actual length of each session will be confirmed in due course, but we aim to keep these training series within 1-2 hours.

Privacy and GDPR:

Please note: by signing up to this event, you are allowing us to share your contact details (full name, job title, email address and University name) with our speakers. If you would like us to remove you from the attendee list, please contact aue@yourvision-events.com.

What is the cost to attend?

To ensure the series are accessible to our members, AUE is offering the full virtual programme for free.

What topics will be covered?

The full 2022 programme is being worked on and will be launched in due course.