Virtual CPD Knowledge Series Programme 2023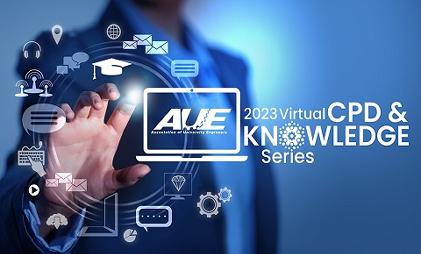 KEY FACTS




When do the series start?

We will be running a series of training sessions the first of which was held in March 2023

Who will deliver the training?

Each training session will be delivered by a member or sector supporter, with content approved by the AUE.

How will the training be delivered?

We will use the virtual platform Hopin to deliver the webinars and/or workshops, meaning you can stay on the platform and network with other AUE members and speakers following the session.

How long will each series be?

The actual length of each session will be confirmed in due course, but we aim to keep these training series within 1-2 hours.

Privacy and GDPR:

Please note: by signing up to this event, you are allowing us to share your contact details (full name, job title, email address and University name) with our speakers. If you would like us to remove you from the attendee list, please contact aue@yourvision-events.com.

What is the cost to attend?

To ensure the series are accessible to our members, AUE is offering the full virtual programme for free.

What topics will be covered?

A wide range of topics will be covered including 'The Challenges in heating Student Accommodation', 'Energy efficiency and net zero for university estates', 'Removal of standard PSTN/Analogue Lines and how it will affect your lift autodialler communications', 'No Smoke Without Fire', 'Avoiding the heat decarbonisation performance gap' and much more.
6th December 2023
This session will focus on Indoor Air Quality: Approaches to Cleaner Indoor Air. From 11:30, you will be able to access the event platform, giving you the opportunity to familiarise yourself with the platform and network with AUE colleagues ahead of the session, 12:00-13:00. You'll be able to visit the expo and network further using the networking carousel, after the session.

Speaker:
Alpesh Trivedi, GM, GPS Air

Synopsis:
IAQ is complex, and in this presentation, we will discuss approaches and tools to enhance indoor air, including advanced IAQ solutions like needlepoint bipolar ionization (Soft Ionisation) and see how this cost-effective technology can be applied in a real-world environment, whether for retrofit or new builds. And, how to improve the filtration efficiency as part of a multi-layered approaches to improving the IAQ. How soft ionization impacts pathogens, in the occupied space, will also be discussed.
15th November 2023
Sealed system expansion and pressurisation.

Synopsis:
Gain insight into theory, use and application of expansion vessels and a variety of pressurisation equipment technologies.

Discover the history behind sealed systems; the practical application of expansion vessels in both heated and chilled systems; the principles of operation of mechanical and digital equipment, the theory of 'Spill and Fill' systems and their practical application on systems.

The course offers information on all key topics for this subject, including gas charge expansion and pressurisation; expansion control; sizing; dynamic pressure maintenance ('Spill and fill'); degassing technology, illustrated with examples.


Speaker:
Michael Baggley, Applications Manager, Aalberts hydronic flow control UK & Ireland
25th October 2023
Avoiding the heat decarbonisation performance gap.

Synopsis:
Decarbonising the way university estates are heated (and cooled) is a significant part of the net zero challenge. But tackling the issue is not easy. Fundamentally this means complete transition away from fossil fuels.

This presentation will focus on explaining how (with case study examples) universities can avoid additional unnecessary and unforeseen risks and costs when transitioning to low carbon heat.

The Public Sector Decarbonisation Scheme is already providing the opportunity to replace end of life fossil fuel boilers with technologies such as heat pumps. Similarly, new development projects must meet Net Zero Carbon standards, including the way they are heated and cooled.

However the design and installation of these solutions is complex, with huge potential for uncertainty around how they will actually perform once deployed from a resilience, carbon saving and operational cost point of view.

"Performance Gaps" (the difference between how the installations are expected to perform on paper and how they actually perform in real life) are apparent in 95% of installations, according to analysis of over 400 installations conducted by Hysopt over the past 8 years, leading to systems which:
• Are sized significantly larger than they need to be, requiring a higher than necessary upfront capital budget;
• Under-deliver against their predicted carbon saving expectations;
• Or worse still, come at the expense of unanticipated consequences, such as significant increases in operational energy costs;

The presentation will explore how these issues have been avoided in projects where heat pumps have been deployed to replace end of life gas boilers in campus heat networks.

Speaker:
Chris Davis, Head of Sales & Marketing (UK), Hysopt
13th September 2023
Removal of standard PSTN/Analogue Lines and how it will affect your lift autodialler communications.

Synopsis:
In our session we will be discussing the implications of the planned removal of copper lines by Openreach and the effect it will have on lifts where analogue lines are in place. Openreach will stop selling any copper lines in September 2023 and there will be no copper lines across the UK by 2025.

Most autodiallers are reliant on the analogue dial tone and DTMF tones as a means of both signalling and configuration.

At the point that the analogue services are removed, any lift autodialler connected to the traditional analogue line will no longer be able to dial out in the event of a passenger entrapment or carry out its 72-hour health check required as part of EN81-28:2018.

Speakers:
Paul Jackson, Sales Engineer, Thames Valley Controls
Lorraine Morgan, Sales Engineer, Thames Valley Controls
19th July 2023
Modern Approaches to Connecting Thick-Walled Steel Pipework.

Speakers:
Chris Boakes, Specification Sales Manager, Viega UK.
Seb Bowen, Specification Sales Manager, Viega UK.

Synopsis:

This CIBSE approved presentation examines both traditional and modern methods for connecting thick-walled steel pipework and tube within both new and existing buildings. Designed for M&E professionals, facilities managers and engineers, the CPD will study steel material and the parameters for its selection within piping applications. The presentation takes a practical look at each installation method, including a time and cost comparison study provided by BSRIA. The CPD focuses on press-technology as an innovation in this field and provides an in-depth look at best practice installation and commissioning.
28th June 2023
No Smoke Without Fire.

Speaker:
Peter Faruqi, National Sales Manager, Swegon

Synopsis:
The CPD is centred around 1366-2 Fire Dampers, compliance, specification, installation and use in the field. The Fire Damper has become a problematic item for all installers and specifiers working in the building sector. With the application of the Building Safety Act this process will only become harder. The CPD is aimed as a starting point for all involved to gain a greater understanding of the product and the wider issues.
24th May 2023
Heat Pumps for Commercial Applications.
Speakers:
James Cooper, Business Development Manager - Renewable Solutions, Lochinvar Limited

Synopsis:
This CPD takes an in depth look into Air Source Heat Pumps for commercial applications. This CPD will cover the design, selection and application of Air Source Heat Pumps for Heating, Cooling and Direct Hot Water systems for new and existing buildings.
4th May 2023
Energy Efficiency and Net Zero for University Estates
Speakers:
Michael Egan, Business Development Manager, Mitsubishi Electric

Synopsis
As universities focus closely on sustainability, energy efficiency and carbon reduction, buildings across UK campuses must be designed with these issues in mind - or refurbished to meet new standards. This guide looks at the scale of this challenge and highlights some HVAC technologies that may help deliver low-carbon campuses and indoor environments that support the health and wellbeing of students and staff.
23rd March 2023
The Challenges in heating Student Accommodation

Speakers:
Fiona Conor, Managing Director, Trust Electric Heating
Scott Conor, Managing Director, Trust Electric Heating

Synopsis
Fiona Conor, Managing Director of Trust Electric Heating, will be discussing all things heating and energy leakage within student accommodation. She will explore the reasons why and how energy wastage occurs in student accommodation based on Trust's findings from a case study with the University of Leeds.
She will propose new ways to conserve energy in student accommodations, saving money on electricity bills, alongside explaining student opinions on heating and thermostat use.
It will be an energetic and eye-opening session on all things electric heating, smart thermostats and energy efficiency within student accommodation.