Harland Roberts Award
In 2009, the AUE launched the Harland Roberts Award for the most promising engineering apprentice/trainee/improver in the university sector. By encouraging these people, the AUE can help maintain the professionalism required to support the development and maintenance of the engineering infrastructure within Universities.
The winners of the 2023 Harland Roberts award received their trophies and cheques at the Gala Dinner in Warwick on Thursday 7th September 2023.
Thank you to all those who have previously entered and very best wishes for your future careers.
The AUE wishes to invest in the future generation of University engineers and encourage them to study and work hard, so that Universities can continue to be developed and maintained to the high professional standard already set.
Applications for the 2024 award will be invited in Spring 2024.
2023 Award
The 2023 award was presented jointly to Dafydd Rhys Owen of Bangor University and George Stanley of University of Birmingham.
George's employer says:
"George has picked up the required knowledge and skills very quickly. He has a thirst for knowledge and to learn the skills required to be an effective member of the team. George carried out all that was asked of him and still had time to assist colleagues and continue with his HNC course work. This level of commitment and sacrifice is a testament to George's character and willingness to be the best Engineer he can be."
Dafydd's employer says:
"Dafydd has shown exceptional application, composure, willingness to learn and great adaptability of his capabilities as he has developed within the team. His aptitude and drive have greatly improved our service delivery model in many areas as he has all the necessary skills that are required of young engineers of today."
2022 Award
The 2022 award was presented to Ryan Hooper of University of Glasgow.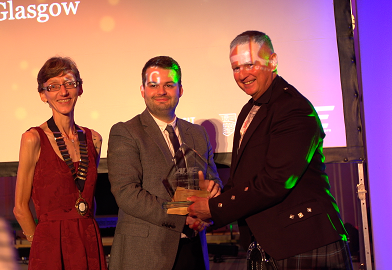 2019 Award
The 2019 award was presented to Charlotte Richardson of University of Kent.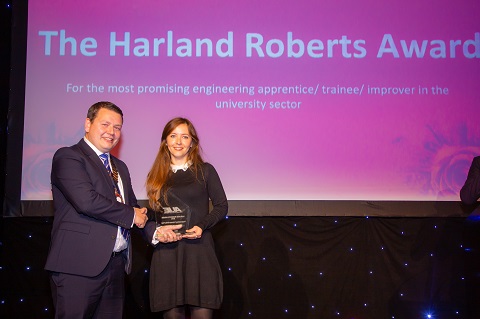 Charlotte says:
Clearly, in the last one - two years I have been on an exceptional and accelerated engineering journey having progressed from being an electrician to a significant member and focal point of the Estates maintenance department.
Professionally, it has solidified where I now want my career to go, that being in main stream management developing further cost saving initiatives and technical solutions for the effective delivery of maintenance to all our customers.
I see myself developing further in the next couple of years and my aspiration for the next 5 – 10 years would be to progress within Estates, be part of succession planning such that I assume a managerial post that will put my career on a firm footing as a grade 8/9 manager.
I genuinely believe I deserve this award given the journey that I have been on and supported within the University of Kent. This has, for me, clearly been about learning, development, understanding and enhancing overall my engineering skills base for the betterment of the university.
2018 Award
The 2018 award was presented jointly to James Reams of University of Birmingham and Louis Polydor of University of Leicester.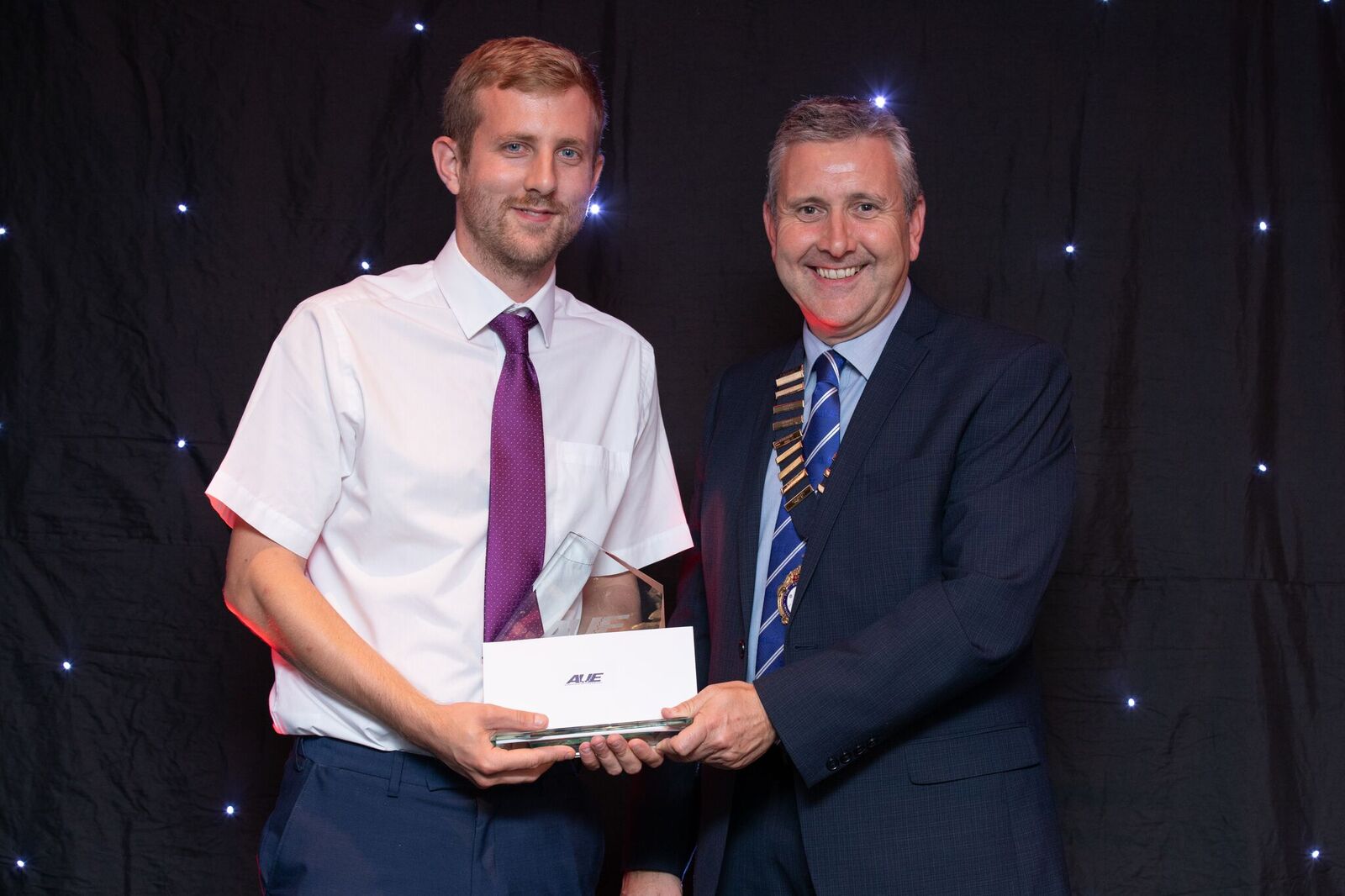 James says:
I am friendly, helpful, responsible and willing to get the job done, with prompt time keeping. This has allowed me to build important relationships with clients, colleagues, customers and contractors.
I share my knowledge with colleagues and clients to achieve the best results for the University.
James's employer says:
James is a member of the Technical Team that can be counted upon. He is a reliable team member who gets work done and does his fair share to work hard and meet commitments.
He regularly follows through on his daily work load with a consistent approach and can be counted upon to deliver good performance all the time.
Louis says:
The technology and systems I have been exposed to during my apprenticeship has given me a wide range of knowledge and experience, for example I have worked on Grade II listed buildings maintaining and repairing equipment installed in the late 1960's.
I finished my apprenticeship at the top of my class, with the highest marks in the science modules and I am the first apprentice the University of Leicester has ever had to pass their AM2 examination first time.
Louis's employer says:
Louis is a great inspiration to individuals. He had to quickly adapt to working in a large organisation.
It is our view that Louis took initiative beyond the expected parameters of his job when an apprentice.
2017 Award
The 2017 award was presented to Jonathan Cripps of Loughborough University.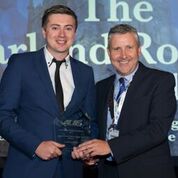 Jonathan says:
After speaking to countless career advisors and family members I received some advice from my grandparents. If I had a trade behind me, I will always have something to fall back on in life, people will always need tradespeople. From there on I applied for 2 apprenticeships, one for refrigeration and one for plumbing. After careful consideration, I chose to start my working life at Loughborough University as an apprentice plumber. Whilst studying through my apprenticeship, I realised that I could achieve so much more and wanted to gain more knowledge than what was taught to me.
After I completed my 4-year apprenticeship, I took 2 years to gain more experience and understanding of the environment I was working in and pursued additional courses to advance myself further. I then started my HNC in Mechanical Engineering in 2014, I did this so I could gain a better understanding of the mechanical systems I was encountering each day and to learn the theory behind the principles of the mechanical systems. Once this had been completed I signed myself up for the HND which I will be completing in January 2018 with the predicted grade of Distinction. Once I have this I wish to develop this into a full degree and possibly do a masters if I can.
To start with, my original career path was because of the advice of my grandparents. But after that initial steer, I chose this path for self-development, more challenging work and to provide a better life for my family.
I have always expected this path to be difficult. With juggling work, studying and a family life isn't easy, I wouldn't change it. Doing this has made me into who I am today and I am proud of what I have achieved so far. The mentors I have had over the years at Loughborough University have been great, I've learnt so much from them and they have always helped me if needed.
Jonathan's employer comments:
Jonathan has a thirst for knowledge and continually strives to improve his performance, seeking to achieve Engineering excellence. He does this in a very professional and polite way. He is calm, hardworking and has an excellent attention to detail.
He seeks advice from others as required in a manner which encourages other team members to help him. His 'can-do' attitude is encouraging and contagious. He is a pleasure to work with and a real asset to the team.
2016 Award
The 2016 award was presented to Grant Mcgillivray of University of Glasgow
I chose this particular career path and course due to an initial interest in the operation of air-conditioning and refrigeration systems. After reviewing what the programme would entail, encompassing a wide variety of trades into one 'multi-skilled engineer', I knew it would be a great opportunity for me to learn about topics I had never encountered before. I decided to apply for the University of Glasgow on the understanding it was Glasgow's largest employer and I felt learning my trade at an educational establishment could only benefit my future progression and aspirations.
I decided to choose a service, maintenance and commissioning course due to the fact I thoroughly enjoy problem solving and understanding how things work. I feel that when you grasp the concept of how a component operates you are thereafter able to break down the stages and see where it went wrong; when you understand this you can thereafter repair it which gives me great satisfaction.
It has met all my expectations and more, I genuinely love this job and I'm extremely grateful to work with such a friendly, helpful bunch of staff that assists me with theoretical and practical based tasks.
Grant's employer comments:
Grant has been an exemplary apprentice working with highly skilled engineers since the start of his apprenticeship. He has demonstrated a thirst for learning in the field of building services engineering by being eager to take on new tasks and learn new skills from his electrical engineering colleagues. Grant showed willingness and was seconded to various multi-national companies who reported that he was a great asset to their teams and prepared to stretch himself in taking on new tasks.
2015 Award
The 2015 award was presented to Michael Hetherington of Leeds Beckett University.
Michael says:
Throughout my three years at college I was continuously looking for an apprenticeship. At the end of my last year I finally found the apprenticeship vacancy with Leeds Beckett University with the help of my college. The apprenticeship was for a Building Services Engineer and included working with steam, high rise buildings and BEMS. This interested me greatly and I applied for the position. I was successful in gaining the position at Leeds Beckett University. Since I gained the job at Leeds Beckett University, I haven't looked back. The job is everything I expected and more. During my apprenticeship I've been privileged to work with Steam boilers and systems, Hot and cold plumbing systems, Air Handling units and duct work, Refrigeration systems and BEMS. The team I've joined have taught me everything I've needed to complete repairs and maintenance work on all manner of systems. They've helped me greatly with my college portfolio making sure I was able to gain work based evidence for its completion.
Michael's Employer comments:
Michael has excelled in all areas of his training during the last year. We have a number of staff who are reaching their normal retirement age, and as such are more familiar with the traditional methods of carrying out maintenance tasks. Michael has been able to introduce a fresh contemporary approach to the work task without causing resentment or confrontation.
He is extremely customer focused, and is always helpful even in what are sometimes the most trying of circumstances. His qualities are his positive attitude, willingness and his refreshingly good manners. He is a pleasure to manage and a great ambassador for Estates Services.
Michael has led by example and is a credit to Leeds Beckett University and Leeds College of Building. As a result of this, we are adopting a programme of employing an apprentice within Estates Services from now on.
2014 Award
The 2014 award was presented to Matthew Boylan of University of Leicester during the Gala Dinner held at University of Bradford on 5 September 2014.
Matthew says:
I believe we are now at the centre of a huge change over from electro mechanical to electronics. Everything is changing to smarter controls which require a more technical way of operating them. One of the areas that I have expressed interest in is the BMS department. The building management system is a computer program that is programmed to control building services across the whole site. In addition to on-site training on the system with Darren Hughes, I have also taken additional training in my own time, with the Schneider energy university online courses. I have completed 12 of the courses that apply to the systems that we have installed on our site. I have found the courses very useful and they have helped me to understand control algorithms used for some of our equipment.
Matthew's Employer comments:
Matthew demonstrates initiative that goes beyond the expected parameters of his job. All the intangibles that lead to success in the workplace are in order with Matthew. Matthew is a very motivated and enthusiastic young man, he shows an aptitude for new challenges and skill sets. Through the maturity he displays he is able to run projects from concept to completion at a level normally associated with a more mature individual.
Hearty congratulations go to Matthew from all at the AUE.

2013 Award

The AUE is delighted to announce that the Harland Roberts Award 2013 has been awarded to Lyn Ha of the University of Bradford. Lyn, who has been with the University since 2011, says:

Since starting at UoB straight from university, I have learnt a variety of different skills and the focus of my role has changed significantly. Despite not having a technical engineering background, I feel as though the knowledge I have learnt in the past two years and the way I approach my work has put me in a good position to keep learning and thrive in this sector.

Whilst I do not regard myself as an Engineer nor have I followed a traditional apprenticeship path, I have followed a unique development route with full support of my line manager that has not only provided me a great experience and opportunity but one that has evolved to match the growing needs of the department and in particular in relation to challenging carbon targets, BREEAM, BSRIA soft landings and more. In many respects, the dynamic nature of my development programme coupled with my move in roles and involvement in many varied aspects of the energy and engineering team provide me with a sense of achievement as a collective nature.

The Award was presented to Lyn by Paul Richards at the AUE Conference Gala Dinner, held at the National Maritime Museum, Greenwich, on Thursday 5 September.

We send Lyn our warmest congratulations and wish her well in her future career.
2012 Award

The 2012 Harland Roberts Award was won by Thomas Price of Newcastle University, whose submission most impressed the judges.

He received a trophy and a generous voucher for PC World, which were presented by Daren Bezants, the outgoing AUE Chairman, at the Conference Dinner at Keele University on Thursday 6 September.

Five entries were received in 2012 - one each from Aston University, Keele University and Southampton Solent University, and two from the University of Newcastle. As in previous years, the standard was very high and the selection panel found it very hard to choose between them. In the end, it was decided that the Award should go to Thomas Price from the University of Newcastle, and he received his trophy and a voucher for PC World at the Gala Dinner on Thursday 6 September. Our congratulations go to him and commiserations to the unsuccessful applicants, who should nevertheless be very proud of their achievements. We would like to thank them for taking part and wish them all the very best for their future careers in engineering.

2011 Winner

The 2011 winner, Daniel Xuereb, received his trophy and PC World voucher at the Conference dinner in Edinburgh on Thursday 8 September.

Daniel Xuereb joined King's College London just over two years earlier as an electrical apprentice and had already completed his first year's study at Bexley College, which he financed himself whilst working in the retail industry.

Daniel is a well liked and respected member of the estates team.

From the outset, it was clear that Daniel had a mature outlook and a determination to succeed. He has achieved the highest accolades throughout his development to date, and his colleagues are sure he will continue to progress quickly with his chosen career.

This Award demonstrates what hard work and determination can bring, and is a fantastic accolade for both Daniel and King's College London.

Daniel is also Energy Champion at Denmark Hill and is currently involved in reducing energy and carbon, utilising energy saving lighting controls, lamps and fittings, and has recently handed over a project which he designed and managed.

Daniel is about to start his path to HND qualification with Greenwich University.

2010 Winner

The 2010 winner was Ashley Mollart from Keele University

2009 Winners

The joint winners for 2009 were Claire Watkins from Wolverhampton University and Mark Rosser from King's College London.