AUE Conference 2015
This year's AUE Conference was hosted by the University of South Wales, Treforest campus between 2nd and 4th September.
Back to Basics was this year's theme. 86 delegates attended a varied selection of Plenary Sessions (see below) where we all gained some newfound knowledge (not forgetting the very descriptive Welsh name for microwave – poppety-ping!)

We were all made to feel very welcome and soon learned our way around the campus which clings to a hillside overlooking the beautiful Brecon Beacons. (We soon discovered how unfit a lot of us are!)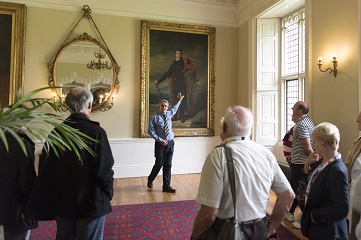 Wednesday afternoon was spent renewing old acquaintances and making new ones on one of the four excursions: Cardiff Sea Safari, Cardiff Castle, Millennium Centre 'Techie' Tour or Cardiff Open Top Bus Tour. During the first evening and between each plenary session there were regular networking opportunities for the 50 exhibitors and delegates alike throughout the whole conference period. We enjoyed a relaxed evening meal (followed in the mornings by a welcome return to the "Full English") on campus in Stilts Food Court.
The more formal Gala Drinks Reception and Gala Dinner took place on Thursday evening.
The Gala Dinner was held in the magnificent Grand Hall of the National Museum, Wales in Cardiff. Our Gala Dinner Speaker was Richard Parks, the former Wales international rugby union player turned adventurer, athlete and explorer – the fastest Brit in history to reach the South Pole, solo, unassisted and unsupported. Three awards were presented during the dinner – the Harland Roberts Award for the best apprentice/trainee was presented to Michael Hetherington of Leeds Beckett University, the Tom Bradley Award for the best member presentation at the conference was awarded to Robert Lawson-Duckett of Cardiff University and the John Hallett Award was presented to Paul Richards of Keele University for outstanding contributions as Treasurer, Immediate Past Chair and for his support to the Conference 2015 team over the past year. Many congratulations to them all.
A huge 'thank you' to Keith Sims and the whole Assured Events team for putting on another outstanding conference.
As always, we are indebted to our Sponsors and Exhibitors, without whom the conference could not take place. (Click here to view Case Studies) Please click here for contact details/profiles.
This year's charity was Ty Hafan (http://www.tyhafan.org/). The total raised was £136.07.
The Conference concluded with a presentation by John O'Keeffe, inviting us to the 2016 AUE Conference at Brunel University (which is in Uxbridge, Middlesex – not Bristol!) (Look out on the Home page of the AUE website for more information and your chance to qualify for the limited early bird rate.) See you there!
Click here to see some more photos taken during the conference.
Conference Presentations
(pdfs are attached at base of report)
Plenary 1:
The Drivers for Building Regulations on Energy Efficiency
By: Ant Wilson, Director and Fellow of Building Engineering UK, AECOM
Plenary 2:
Estates and Environmental Sustainability, Where Next? Achievements, Aspirations and Accolades
By: Christopher Cowburn, Senior Estates and Sustainability Manager, Higher Education Funding Council for Wales (HEFCW) and Andrew Smith, Head of Estates and Sustainable Development, Higher Education funding Council for England (HEFCE)
Plenary 3:
Complex to Simple Ground Source
By: Robert Lawson-Duckett, Maintenance Officer (Control), Estates and Campus Facilities Division, Cardiff University
Plenary 4:
Get Your Finance Director's Attention! Combining Energy and Asset Data for Significant Energy and Cost Savings
By: Professor Ian Knight, Cardiff University, and K2nLtd
Plenary 5:
The Low Carbon Biomedical Research Facility
By: Fintan Lyons, Managing Director CCTech
Plenary 6:
Legionella Control and Water Treatment – Keeping You Safe, Cost Effective and Compliant
By: Stuart Nixon, Managing Director, Trident Water Solutions Limited
Plenary 7:
Polar Bear Pirates – Together Making a Difference
By: Adrian Webster, Motivational Business Speaker and International Best-Selling Author, www.adrianwebster.com