AUE Conference 2016
This year's AUE Conference was hosted by Brunel University London, in Uxbridge between 7th and 9th September.
This year's theme was "The Digital Estate". 72 delegates attended 7 plenary sessions (see below for more details including pdfs of presentations) which explored the digital estate from various perspectives. These sessions were held through all of Thursday and Friday morning.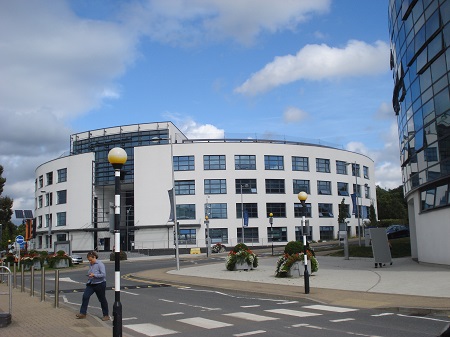 In contrast to last year's conference in Wales, the campus at Brunel lies on much flatter ground but we still managed to fit in our 10,000 steps walking between our accommodation, the exhibition hall, lecture theatre and breakfast! As always, Assured Events ably assisted by the staff at Brunel, were on hand to ensure the whole conference ran very smoothly.
Wednesday afternoon was spent on one of the three excursions: Brooklands Museum, RAF Museum and Battle of Britain Bunker. This was followed by the official opening of the Trade Exhibition – our first chance to meet up with the 50 exhibitors. We all enjoyed a relaxed BBQ on the terrace during the balmy Wednesday evening.
Throughout the conference there were regular opportunities for the delegates and exhibitors to network face-to-face – it was good to meet up with old acquaintances and make new contacts. The lovely Kate Bellingham hosted the plenary sessions throughout Thursday.
The more formal Gala Drinks Reception and Gala Dinner took place on Thursday evening.
The Gala Dinner was held at the Twickenham Stadium, 'Home of England Rugby'. Our Gala Dinner Speaker was the very entertaining Ian Roberts – BBC rugby commentator, Sunday Times Rugby Correspondent and author. Three awards were presented during the dinner – the Harland Roberts Award for the best apprentice/trainee was presented to Grant McGillivray of University of Glasgow, the Tom Bradley Award for the best member presentation at the conference was awarded to Bob Stiff of Brunel University London and the John Hallett Award was presented to Keith Sims of Cardiff University for his considerable services to the AUE, serving not once but twice as AUE Chairperson, Conference Host for 2015 concurrently with Wales Regional Chair. Many congratulations to them all.
Many thanks to John O'Keeffe and the whole Assured Events team for putting on another outstanding conference.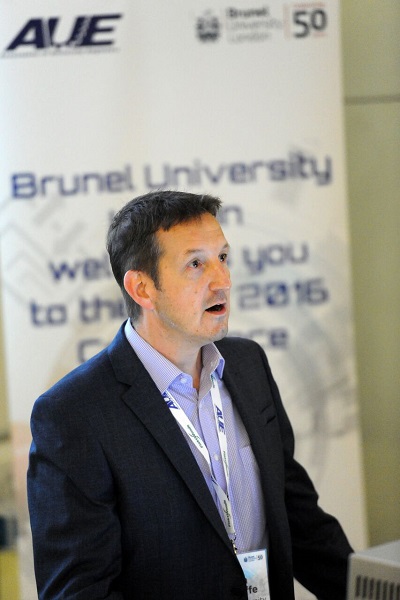 As always, we are indebted to our Sponsors and Exhibitors, without whom the conference could not take place. Click here to view Case Studies. Please click here for contact details/profiles.
Charity
This year the AUE have decided to support an inspirational eight-year-old Harefield girl who needs to raise £120,000 for cancer treatment in America.
Jessica Shepherd is from the small village of Harefield, Middlesex. Jess was first diagnosed with a rare form of childhood cancer, neuroblastoma, aged just three years old, and then went into remission spontaneously. The brave youngster underwent chemotherapy, surgery, radiotherapy and retinoic acid for a whole year so her family thought she had gone into remission. Unfortunately, the cancer withstood all the treatment and came back in February 2015 so Jess recommenced treatment.
The cancer has now returned for a fourth time. Doctors have helped Jess as much as they can and although she has just been accepted for a trial at the Royal Marsden Hospital once in remission she will need to go to America for follow-up injections. This will cost a staggering £120,000.
To help raise funds, a special fundraiser has been organised, "Jess's Disney Day". The day will involve a prince and princess walk around Harefield with a Disney/ Pixar disco in the evening.
For more details, please visit Jess's crowdfunding page: https://www.gofundme.com/h6svcqt8.
Delegates at this year's AUE Conference have donated a total of £265.48 to this amazing cause!
The Conference concluded with a presentation by Scott Brooks, inviting us to the 2017 AUE Conference at Nottingham Trent University between 6th – 8th September 2017. (Look out on the Home page of the AUE website for more information and your chance to qualify for the limited early bird rate.) See you there!
Click here to see some more photos taken during the conference.
Click here to see the Post Event Report.
Conference Presentations
Plenary 1:
Delivering Digital Surveys, Technology, etc. to an Estate Operation
By: Paul Thomas CBE, BSc, Chief Operation Officer, Brunel University London
Plenary 2:
BEMS in the Digital Estate
By: Nick Dunford, Managing Director, NDA Consulting Ltd
Plenary 3:
How Education Estates Can Benefit from Better Information Management
By: Jo Harris, Business Manager of Sustainable Construction Group, BSRIA
Plenary 4:
Digital Power Quality Monitoring
By: Richard Govier, Technical Director (UK), Socomec UK Limited
Plenary 5:
An Energy Manager's Tale – A Story in Words and Pictures
By: Bob Stiff MBE, Energy Sustainability Manager, Estates Department, Brunel University London
Plenary 6:
Future Proof Your University Estates with Intelligent Technology
By: Roxana Dinescu, Strategic Marketing Leader and Billal Vindhani, Senior Account Manger, Honeywell UK
Plenary 7:
How to be a Productivity NinjaTM
By: Matthew Brown, How to be a Productivity NinjaTM Think Productive Email: matthew@brownglobalenterprises.com Website: http://thinkproductive.co.uk/secretninja/ password: ninja