AUE Conference 2017
This year's AUE Conference was hosted by Nottingham Trent University, between 6th and 8th September.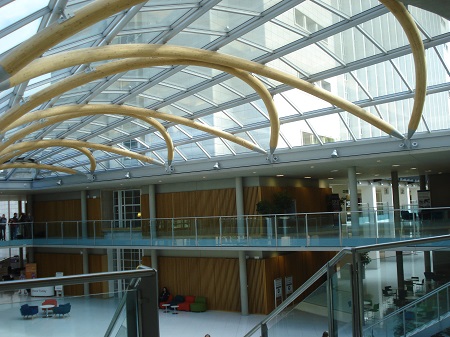 The theme was "Complex Estates". 97 delegates attended a choice of 14 plenary sessions (see below for more details) covering topics from Electrical Dutyholders – Effectively Discharging Responsibilities to Strategic Leadership and Estates Compliance. The plenary sessions took place throughout the whole of Thursday and then Friday morning.
Our student accommodation was in Byron building, a few minutes' walk from Newton Building where the exhibition, plenary sessions and general refreshments were to be found. Assured Events and university staff were available to ensure the whole conference ran as smoothly as ever. A number of us arrived by train due to lack of free car parking – this did have the added attraction of trying out the Nottingham tram service which efficiently links the rail station with the university.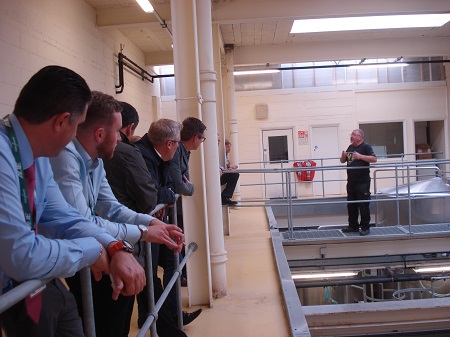 Wednesday afternoon was spent on one of the three excursions: Donnington Park Tour, Castle Rock Brewery Tour or Nottingham Castle and Cave Tour. This was followed by the official opening of the Trade Exhibition – our first chance to meet up with the 50 exhibitors.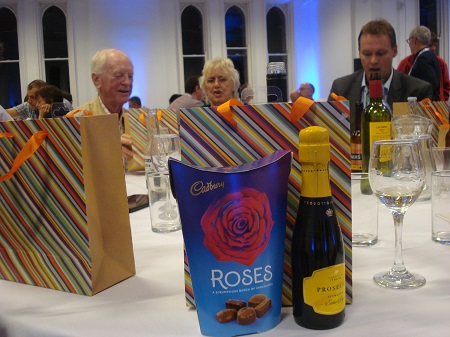 The delegates, exhibitors and retired members enjoyed an informal buffet dinner on Wednesday evening in The Old Library, followed by a lively quiz which everyone took part in.
The whole conference was an excellent opportunity for delegates and exhibitors to network face-to-face and many mutually beneficial contacts were made. The parallel plenary sessions held all day Thursday and Friday morning were ably hosted by Angela Lamont (TV presenter) and Henry Gun-Why (well-known in AUE circles).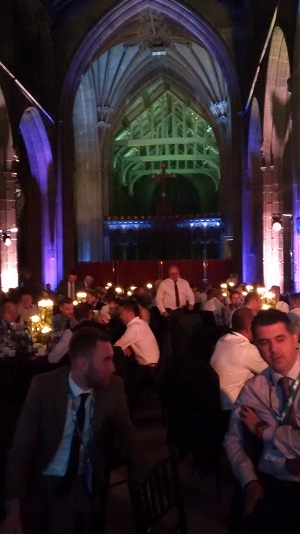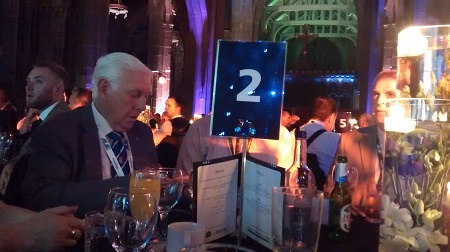 The more formal Gala Drinks Reception and Gala Dinner took place on Thursday evening at the beautiful St Mary's Church, Nottingham. Our Gala Dinner Speaker was the enthusiastic and inspiring adventurer, Alastair Humphreys. Three awards were presented during the dinner – the Harland Roberts Award for the best apprentice/trainee was presented to Jonathan Cripps from Loughborough University and the Tom Bradley Award for the best member presentation at the conference was awarded to Mike Sheppard of Queen Mary University London. Finally, the John Hallett Award was presented to Heather Loosemore of Coventry University for her considerable services to the AUE, organising and promoting AUE Academy training courses. Many congratulations to them all.
Well done to Scott Brooks and the whole Assured Events team for arranging another show-stopping conference.
As always, we are indebted to our Sponsors and Exhibitors, without whom the conference could not take place. Please click here for contact details/profiles.
Charity
This year the AUE are proud to be supporting Cancer Research UK. To help raise funds, a special fundraiser game was organised for the Gala Dinner "Heads or Tails". Attendees at this year's AUE Conference donated a total of £917.23 to this worthwhile cause. www.cruk.org
In the ever-changing world of HE, engineers are now responsible for building and estates that are more complex than ever before. It is, thus, reassuring to know that the AUE Conference is there to connect the industry each year, and assist engineers in overcoming the multitude of challenges and uncertainties put in their path.
The Conference concluded with a presentation by Steve Dunne, inviting us to the 2018 AUE Conference at Southampton Solent University between 5th-7th September 2018. (Look out on the Home page of the AUE website for more information and your chance to qualify for the limited early bird rate.) See you there!
Click here to see some more photos taken during the conference.
Conference Presentations
(see pdfs attached at the base of this report)
Plenary 1:
Strategic Leadership and Estates Compliance
By: Henry Gun-Why, Principal Consultant, Gun-Why Associates LLP and Mike Sheppard, Director of Estates, Facilities and Capital Development, Queen Mary University of London.
Parallel Session 1A:
District Heating and Efficient Heat Network Design
By: Steve Richmond, Head of Marketing & Technical – Building Solutions, REHAU Ltd
Parallel Session 1B:
How a Single Infrastructure Decision Saves Universities in Excess of £50,000
By: Dr Lore Grohmann, Marketing Manager, Wilson Power Solutions Ltd and Phil Hunt, Head of Sustainability, Utilities and Engineering, Estates and Facilities Division, University of East Anglia
Parallel Plenary 2A:
Building for Wellbeing
By: Dr Michelle Agha-Hossein, Building Sustainability Engineer/ Soft Landings Operational Lead, BSRIA Limited
Parallel Plenary 2B:
Interest-free Funding for the Public Sector: A Look at the Salix Project Assessment
Methodology and Trends in Energy Efficiency Projects
By: Matt Caville, Programme Manager, Technical Services, Salix Finance
Parallel Session 3A:
How to BIM Existing Buildings
By: Derek Lawrence, Associate Director, Arup
Parallel Session 2B:
The Fundamentals of CHP
By Neil Stead, Key Account Manager, Bosch Commercial & Industrial and Shaun Garrod, Senior Business Development Manager, Bosch Commercial & Industrial
Parallel Session 4A:
A Dual Pipe Hot Water Circulation System
By: Martin Pearce, Project Director, Equitherm Ltd
Parallel Session 4B:
Managing Healthy, Productive and Efficient Buildings
Tom Cudmore, Senior Consultant, LCMB
Parallel Session 5A:
False Alarm Statistic and Legislation
By Michael Estall, Head of Sales, Fire Products, Siemens Cerberus Pro UK
Parallel Session 5B:
Sustainability of Decentralised Energy Systems in a Citywide Environment
By Gordon Watt, Business Development, Europe Green Development Group, Doosan
Babcock
Parallel Session 6A:
Life Cycle Costing and Operational Considerations to Capital Cost Decisions
By Peter Tse, Principal Design Consultant, BSRIA Ltd
Parallel Session 6B:
Electrical Dutyholders – Effectively Discharging Responsibilities
By Ian Carnall IENG MIET, Managing Director, Guardian Electrical Compliance Ltd
Plenary Session 7:
Leading Change – Ensuring Effective and Sustained Engagement
By Dr Paul Victor, Managing Director, Vmax Consulting