AUE Conference 2022
This year's AUE Conference took place at University of Stirling, between 7th and 9th September. After 2 years without a conference (due to COVID) the theme was Celebrating 50 Years - Engineering Tomorrow's Solutions together.
Attendees including delegates, retirees and spouses totalled 107. Topics of plenary sessions ranged from Digital Twins, Sustainable Heating and Cooling, through to Net Zero, Asset Management and Water Hygiene (full details and pdfs below). The sessions were held throughout all of Thursday and also Friday morning.
Delegate Feedback Summary
Exhibitor Sponsor Feedback Summary
Our accommodation was in Juniper Court and Stirling Court Hotel, set within the beautifully scenic campus of University of Stirling. YourVision Events and university helpers were on hand to ensure the conference ran smoothly. The breakfasts and informal dinner provided by Stirling Court/Abbey Craig Restaurant were of exceptionally high standard and variety.
Exhibitors and delegates attended Wednesday afternoon's excursions which included visits to Kelpies and Falkirk Wheel, Wallace Monument and Deanston Distillery (we learned how the distillery is self-sufficient in electricity using turbines to extract energy from the adjacent River Teith). The official opening of the Trade Exhibition was held at the end of the day whereafter all of us enjoyed a "Taste of Scotland" Welcome Dinner.
After two years without a conference, delegates and exhibitors alike were keen to network face-to-face and there was a real buzz in the exhibition. The plenary sessions were hosted by Jill Douglas.
The formal Gala Drinks Reception and Gala Dinner took place on Thursday evening in the spectacular Stirling Castle. We had just learned of the death of Her Majesty Queen Elizabeth II so the mood was quite sombre. We held a two-minute silence to show our respect.
Three awards were presented at the dinner - the Harland Roberts Award for the most promising engineering apprentice/trainee/improver was presented to Ryan Hooper of University of Glasgow, the Tom Bradley Award for the best member presentation at the conference was awarded to Jonathan Face of Manchester Metropolitan University and the John Hallett Award was presented to Sam Heppell of Newcastle University for his outstanding contribution to the AUE, as Chair of the Website Refresh Group and North East Regional Chair, and future commitment as Learning & Development Coordinator. Congratulations to all of them.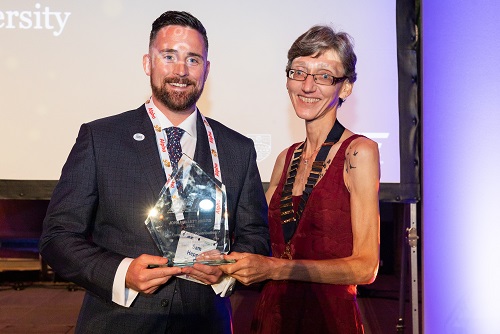 In place of the usual after dinner speaker we were entertained by a video looking back through the history of the AUE. Click to see * HISTORY OF THE AUE VIDEO *
The evening was rounded off outside the castle by a very moving piped band and dancers - what a spiritual end to a truly memorable evening!
Many thanks to Conference Organising Team, Billy Ferguson, Sheila Scott, Lewis Matthews and Jeni Stevenson and YourVision for an outstanding conference.
As always, we are indebted to our Sponsors and Exhibitors, without whom the conference could not take place. Click here for contact details/profiles.
Charity
This year the AUE are proud to be supporting My Name'5 Doddie Foundation. Attendees at this year's AUE Conference donated a total of £1,623.43 to this worthwhile cause.
This is a landmark year for the AUE, being the 50th Annual Conference and particularly important as we emerge from the restrictions of the coronovirus pandemic. The main theme of the conference is "The challenges and solutions associated with the Net Zero challenge", this is a dominant global theme that we all need to rise to.
Click here to see some more PHOTOS taken during the conference
VIDEO HIGHLIGHTS of Conference 2022 Click here
Exhibitor / Sponsor Contact Details Click here
PLENARY SESSIONS (pdfs are attached below)
Plenary 1: Dynamic Simulation Digital Twins: Vision and Reality
By: Fiona Bradley, Professor or Structural Engineering Design, James Watt School of Engineering - University of Glasgow and Ruth Kerrigan, COO, IES Ltd
Plenary 2: Sustainable Heating and Cooling: Where is the world going?
By: Dave Pearson, Group Sustainable Development Director, Star Refrigeration
Plenary 3: Delivering Net Zero for University Estates
By: Steven Cowan, Associate Director - Climate Risk & Decarbonisation Strategy, KPMG
Plenary 4: Implementing Asset Management Using a Systematic Approach
By: Michael Smith, Technical Director, Strategic Asset Management
Plenary 5: NETworks-Zero
By: Jack Haynes, Senior Low Carbon Technologies Engineer, SP Energy Networks
Workshop 1A:
By Ayah Alfawaris
Workshop 1B: Water Hygiene and the Role of the Authorising Engineer (Water)
By: Jim Perry, Client Liaison Manager/Authorising Engineer (Water) and Chris Knight, Training Manager of HYDROP E.C.S.
Workshop 1C: Is Electric Lighting Sailing into the Perfect Storm?
By: Sophie Parry, Technical Application Consultant, Zumbotel Lighting
Workshop 2A: Boiler replacement & the electrification of heat: low-carbon heating and domestic hot water production
By: Andrew Latus, Regional Sales Manager for Klima-Therm Limited
Workshop 2B: Relighting Spaces in the Built Environment
By: Tim Bowes, Head of Lighting Applications, Whitecroft Lighting
Workshop 2C: BIM for Operation
By: Jonathan Face, Founder of Face2Face Consulting